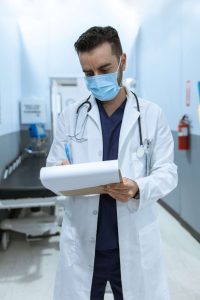 Pregnancy tests are quite simple and easy to use. The test reads your urine or blood for a hormone called hCG, human chorionic gonadotropin. 
This pregnancy hormone is made by a woman's body after a fertilized egg attaches to the wall of the uterus. Normally this occurs about six days after fertilization and quickly rises, doubling every couple of days.
Blood vs. Urine Pregnancy Tests
Blood Tests
Blood pregnancy tests are done at a doctor's office, but they are not used as often as urine tests. They can find smaller amounts of hCG and indicate pregnancy earlier than a urine pregnancy test—about six to eight days after ovulation. Blood test results may also alert doctors to pregnancy complications like ectopic pregnancy, where the pregnancy is located outside the uterus. 
Urine Tests
Urine pregnancy tests are 97-99% accurate when used correctly. Depending on the type of test, urine tests detect hCG about a week after your missed period. Many women choose to use at-home pregnancy urine tests before confirming pregnancy with a medical professional.
Do At-Home Pregnancy Tests Work?
While at-home pregnancy tests are very accurate, they are only accurate if done correctly and at the right time. For the most accurate pregnancy result, it's best to take a test at least one week after your missed period. 
Though the results of an at-home pregnancy test are often accurate, it's important to verify your pregnancy with a medical-grade pregnancy test. If needed, we can provide you with documented proof of pregnancy for insurance purposes. 
Connect with a nurse at Cleburne Pregnancy Center to set up your free pregnancy test appointment.
Confirming Your Pregnancy
After a verified positive pregnancy test, a no-cost ultrasound is your next step. Ultrasounds reveal vital details of your pregnancy like viability (if there is a detectable heartbeat) and how far along you are. An ultrasound also makes you aware of any pregnancy risks or health complications.
Free Pregnancy Services in Johnson County
Contact us today for your free and confidential pregnancy testing appointment. We are committed to providing accurate information concerning all your options to help you make an informed decision for your future.