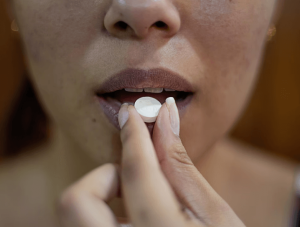 Are you considering taking the abortion pill for your unplanned pregnancy? In this blog, we will discuss the known side effects and risks of the abortion pill, as well as how it works to end a pregnancy and what you need to know before accessing the medication.
How Does the Abortion Pill Work? 
The abortion pill, also called a medication abortion, consists of taking two pills — Mifepristone and Misoprostol.

First, an abortion provider administers Mifepristone in order to prevent the uterus from absorbing the necessary pregnancy hormone called progesterone. Because progesterone provides the pregnancy with the support it needs to survive, without it, the pregnancy ends. 
Misoprostol is taken at home about 24 to 48 hours after the pregnancy has ended. This medication causes contractions in order to push the pregnancy tissue from the womb.
What Are the Potential Side Effects of the Abortion Pill? 
When taking the abortion pill, you should expect to experience bleeding and cramping as the pregnancy tissue is passed from the womb. In addition to these side effects, you may experience one or more of the following side effects:
Nausea

Weakness

Fever and chills

Vomiting 

Diarrhea

Dizziness

Headaches
What Are the Potential Health Risks of the Abortion Pill?  
While side effects of the abortion pill typically go away within days or weeks of the procedure, some women experience serious health conditions after taking the abortion pill. 
These health conditions may include: 
Prolonged uterine bleeding or hemorrhaging 

Infections

Sepsis or septic shock

Mental health struggles

1

Increased risk of Pelvic Inflammatory Disease (PID)

2
When Can the Abortion Pill be Taken? 
According to the FDA, only women within the first 70 days of pregnancy are eligible to take the abortion pill.

Not sure how far along you are? We recommend scheduling an appointment for an ultrasound scan as soon as possible to confirm your pregnancy, learn how far along you are, and better understand your pregnancy options. 
Schedule Your Appointment
Cleburne Pregnancy Center provides free ultrasounds, pregnancy testing, and more! All of our services are offered in a safe, confidential environment with the support of our knowledgeable and caring staff.

Make an appointment today!

Broen AN, Moum T, Bødtker AS, Ekeberg O. The course of mental health after miscarriage and induced abortion: a longitudinal,

five-year

follow-up study. BMC Med. 2005;3:18.

Westergaard L, Phillipsen T, Scheibel J (1982). "Significance of cervical Chlamydia trachomatis infection in postabortal pelvic inflammatory disease." Obstetrics and Gynecology, 68(5): 668-90; Ovigstad E, et al. (1983). "Pelvic inflammatory disease associated with Chlamydia trachomatis infection after therapeutic abortion." Br J Vener Dis, 59: 189-92; Heisterberg L, et al. (1987). "The role of vaginal secretory immunoglobulin a, gardnerella vaginalis, anaerobes, and Chlamydia trachomatis in post abortal pelvic inflammatory disease." Acta Obstetricia et Gynecologica Scandinavica, 66(2): 99-102.