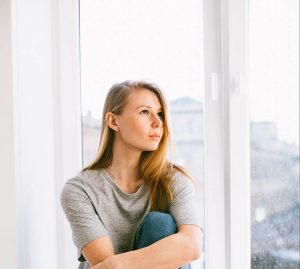 Before deciding if abortion is right for you, it's smart to take time and do a bit of research on the procedure and the side effects and risks you may face.

Like any medical procedure, abortion can cause side effects, such as abdominal pain, cramping, bleeding, nausea, vomiting, diarrhea, and exhaustion. While these side effects will often subside within days of the procedure, there are a few risks related to abortion that can have a long-lasting impact on your health and wellbeing. 

Here are some potential side effects of abortion to know about before deciding if it's right for you: 
Depression & Anxiety
Abortion can impact more than just your physical health. Studies have shown that abortion may result in mental health complications including anxiety, depression, and suicidal ideation. New mental health issues may arise following an abortion and existing conditions may be "triggered, aggravated, or complicated by [the] abortion experience." 1 
Pelvic Inflammatory Disease
Undergoing an abortion procedure while infected with chlamydia has been linked to a 23% increased risk of developing Pelvic Inflammatory Disease (PID).2 PID has been linked to chronic pain, infertility, and abscesses.
Relationship & Bonding Issues
Another side effect of abortion may include difficulty bonding and relating to others. According to one study, romantic relationships where an abortion has taken place are 45 to 75 percent more likely to end in a breakup or divorce. Additionally, post-abortive women have reported difficulties bonding with their children.3
Life-Threatening Complications
Unfortunately, some complications related to abortion can be fatal. Abortion procedures can lead to perforations of internal organs, infection, sepsis, and hemorrhaging. If left untreated, these complications may be life-threatening. 
I just found out I'm pregnant! What's next?
If you've recently received a positive pregnancy test, there's help available to you!

If you're considering abortion, it's important to take time to explore your unique pregnancy conditions and understand any potential risks and side effects you may face. We recommend undergoing the necessary pre-abortion screenings including an ultrasound scan to determine the gestational age of your pregnancy and STI testing to rule out the possibility of infection.

Cleburne Pregnancy Center exists to help women facing unplanned pregnancies access the quality healthcare and resources they deserve. All of our services are offered on a no-cost basis to help you make a safe and informed choice for your pregnancy.

Our free services include lab-quality pregnancy testing, ultrasound scans, referrals, material assistance, options counseling, and more! 
Schedule your appointment today!



Reardon DC. The abortion and mental health controversy: A comprehensive literature review of common ground agreements, disagreements, actionable recommendations, and research opportunities. SAGE open medicine. 2018;6: 1–38. 10.1177/2050312118807624 . [PMC free article] [PubMed] [CrossRef] [Google Scholar]




Westergaard L, Phillipsen T, Scheibel J (1982). "Significance of cervical Chlamydia trachomatis infection in postabortal pelvic inflammatory disease." Obstetrics and Gynecology, 68(5): 668-90; Ovigstad E, et al. (1983). "Pelvic inflammatory disease associated with Chlamydia trachomatis infection after therapeutic abortion." Br J Vener Dis, 59: 189-92; Heisterberg L, et al. (1987). "The role of vaginal secretory immunoglobulin a, gardnerella vaginalis, anaerobes, and Chlamydia trachomatis in post abortal pelvic inflammatory disease." Acta Obstetricia et Gynecologica Scandinavica, 66(2): 99-102.




Women's Health After Abortion: The Medical and Psychological Evidence Paperback – April 1, 2002. Elizabeth Ring-Cassidy (Author), Ian Gentles (Author)