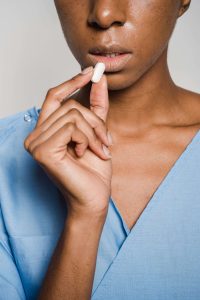 Unexpected pregnancies happen, and when they do, it's wise to consider every option so you can make a confident decision. Keep reading to become more informed on the abortion pill, and its side effects and risks.
What Is the Abortion Pill?
The abortion pill (medical abortion) is a pregnancy termination method that uses two drugs: mifepristone and misoprostol. 
The first drug ends the pregnancy by blocking the necessary pregnancy hormone, progesterone. Without progesterone, the pregnancy can't continue. The second drug causes contractions to expel the pregnancy from the uterus through a series of cramping and bleeding.
This method is only FDA-approved for use within the first 70 days of pregnancy. 
What Are the Side Effects?
The two main side effects are cramping and bleeding, as this is how the abortion pill works.

Additional side effects from the abortion pill in the first 24 hours include:

Nausea

Weakness

Fever or chills

Vomiting

Headache

Diarrhea

Dizziness
What Are the Risks of the Abortion Pill?
In addition to side effects, there are also potential risks to consider. If the side effects worsen or don't go away, this could be an indicator of a more serious condition, such as an infection.
Here are the potential risks, according to Mayo Clinic: 
Incomplete abortion, which may need to be followed by a surgical abortion

An ongoing pregnancy

Heavy and prolonged bleeding

Infection

Fever

Digestive System Discomfort
Want more information? 
There's a lot to consider when evaluating every option. We recommend having an ultrasound scan to gather even more information and ensure you have a normal, progressing pregnancy. 
Find out how far along you are and the options available to you by making a free and confidential appointment at Cleburne Pregnancy Center. We're here to help you move forward.